Instagram Integration with WooCommerce
Instagram enjoys more than 75 million daily active users; this mass usage has resulted in extensive inclusion of the photo-sharing website in various business. Millions of business owners are currently leveraging the social media platform to their benefit, thereby increasing brand awareness and sales many folds with each year. And alike other E-Commerce platform users, WooCommerce also provides a one-stop, out of the box, alternate solution for the complex integration of Instagram to the WooCommerce store.
Manual integration for Instagram
Please follow the instructions on https://docs.woocommerce.com/document/shopping-instagram-woocommerce/
Requirements:
WooCommerce store with physical products
Instagram app for iOS or for Android – most current version
Instagram account with an approved business profile
Facebook Page catalog to link to Instagram business profile
Setup and Configuration
This guide walks you through setup of Shopping on Instagram with WooCommerce in steps.
Prepare your WooCommerce Store and Products
Use the Setup Wizard (https://docs.woocommerce.com/document/woocommerce-setup-wizard/) to start a new store. Or ensure your current store is updated and ready for visibility on Facebook and Instagram.
Add new products or manage existing ones. More at: Adding and Managing Products.
Ensure that physical products to be promoted are in compliance with the Facebook Commerce Policy.
Create a Facebook Page and Catalog
Get an Approved Business Profile
Be located in a country where Shopping for Instagram is available. Countries approved for Shopping for Instagram.
Create a new Instagram account for your business. Or convert your personal account to a business account.
Connect your Facebook Page Catalog to your Instagram Business profile in the app. More at: Connect a Facebook catalog with an Instagram Business profile.
Wait for approval from Instagram. This process takes a few hours or days.
Once approved, a push notification appears.

Congratulations! It's time to start tagging.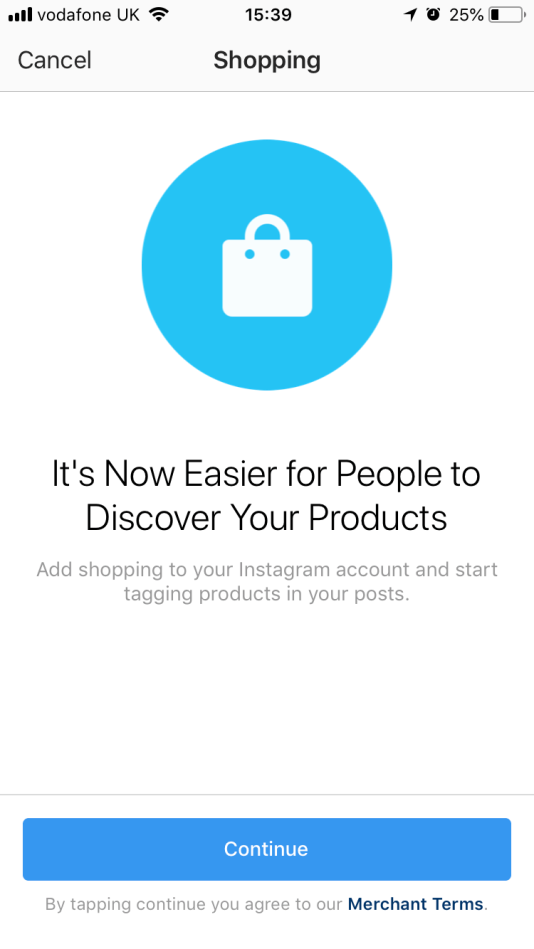 To start tagging products from your WooCommerce store in Instagram images:
Enable Product Tagging
Use the Instagram app and go to your Profile.
Select the Get Started alert or the gear icon.
Go to: Shopping > Continue.
Select a catalog to connect to your Business profile.
Done.
Tag Products on your Instagram Posts
Using the Instagram app, select a photo and add a caption, any filter or hashtag, as usual.
Tap products you wish to tag.
Enter names of products to tag, and select them as they appear in the Search box.
Done.
Share.
You can tag up to five (5) products in a single Instagram post or 20 products in a multi-image post.
More at: Tagging Products on Instagram Posts.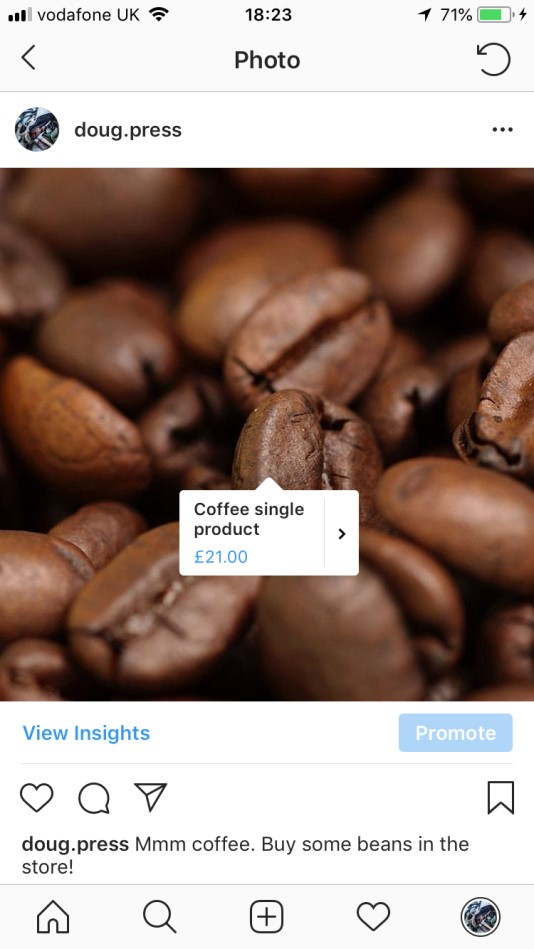 Tapping a tag on your Instagram post, a customer sees:
Image of the product via Facebook
Description of the product
Cost of the product
> Link that takes them to where they can purchase the product.
WooCommerce Plugin for Instagram integration
One such extension you can use for the integration of the most coveted social media platform is Instagram with WooCommerce. This Instagram WooCommerce Integration allows users to view the brands' products through updates, pave way for easier linkage to website for better discovery and shopping experience for the target consumers, thereby increasing sales manifolds. The solution helps you leverage both, the popularity of Instagram and the growing trend of product personalization.
Follow these instructions : https://woocommerce.com/products/woocommerce-instagram
Requirements
WooCommerce 2.4+
Instagram Account
Facebook Account
Business Account on Instagram
Installation Process for the Plugin
Download the .zip file from the WooCommerce Account
Go To the WordPress Admin > Plugins > Add New and Upload Plugin with the file you downloaded with Choose File
Install the Plugin and Activate the extension
Before starting to configure and use this extension, it's necessary to have an Instagram Business account connected to a Facebook Page. If the Business Account on your Instagram needs to be activated you can follow the next steps.
Go to Facebook and Create a Page for your Business.
Create a new Instagram account for your business or use your personal account.
Connect the Instagram Account to your Facebook Account
In order to connect the Instagram Account to the Facebook Page, go to your Facebook Page's Settings and click Instagram, then log into your Instagram account. If the account is not an Instagram Business Account, you will be prompted to set up your Business Profile. Continue through the steps to convert the account to an Instagram Business Account to connect to your Facebook Business Page and leverage the Instagram extension.
Connect Instagram
Once the extension is activated and you have an Instagram Business account connected to a Facebook Page, go to WooCommerce > Settings > Integrations > Instagram to proceed to connect your store with Instagram.
Click on the Login with Facebook button and log in with the Facebook Account through which the Facebook Page for your business has been created.
Accept the requested permissions by the WooCommerce app by clicking on the "Ok" button.
Now select the Facebook Page connected to the Instagram Business account from the list displayed by the Facebook page setting and save the settings.
The Instagram Business Account can be counted on for successful connection with your store if you start viewing the Instagram images by using a hashtag on product listings. You will be also notified for the same if a message is prompted for successfully saving the settings.
Renewing access
Usually, after successfully connecting your Instagram account to your store, the plugin requires to renew the access credentials periodically to continue using the Instagram API. Through this alternative plugin for Instagram integration, the process is automatically generated to renew, so the hassles of requesting the access credentials won't be necessitated unless the intervention of the store owner. But in rare cases, Facebook could invalidate the current credentials (for security reasons, recent changes in its API, strange activity in your account, etc) and you will be required to re-connect your Instagram account with your store manually.
Additionally, in case of large periods of inactivity or problem, with the renewal process, the access credentials could expire. To automate alerts in such cases, the scenarios will be detected well in advance by the WooCommerce Instagram extension through push notifications to the store owner requesting him to re-connect your account manually.
Conclusion
If you're a product-based e-commerce store, looking to expand your business online through the rapid expansion of your brand awareness to the desired target market, Instagram is one platform to go for. It works brilliantly for brand awareness as well as for sales for almost every type of company. Not only you can just post through the extension but also tag the products on the website for increased sales and traffic.
Note : This post first appeared on our E-Commerce Services website at https://commercecodes.com/instagram-integration-with-woocommerce